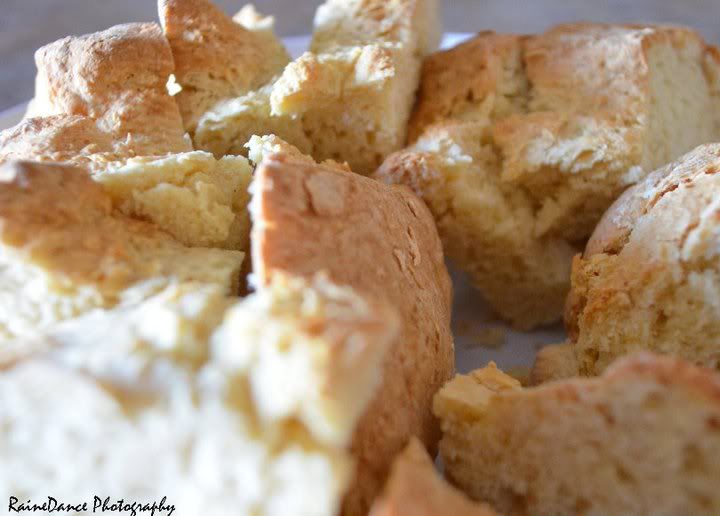 What You Need:
3 TBS butter
2 1/2 cups flour
2 TBS sugar
1 tsp baking soda
1 tsp baking powder
1/2 tsp salt
3/4 cup buttermilk
*raisin or currants (i'm not a fan of either, so I opt out of this ingredient)
What You Do:
Mix butter, flour, sugar, soda, baking powder, and salt. Stir in just enough buttermilk to form a dough. (Too much buttermilk will yield a loaf that is too moist/dense.)
Place dough on a floured surface and knead about 2 minutes. Shape into a round loaf. Place onto a greased cookie sheet.
Slice an X into the top of the loaf, about 1/2 - 1 inch deep. According to lore, this is to "let the fairies out", so don't forget it!
Bake at 375 for 35 to 40 minutes.
*makes 14 slices*
Review:
This is one of my favorite things to make all year, not just for St. Pat's. It's so simple to make, requires mostly things that are already around the kitchen, and is just a really nice snack. Light, but dense. Dry but not too much so. And at only 110 calories a slice, not too bad on the diet either ;)